Save the Date for 3DEXPERIENCE WORLD 2022
3DEXPERIENCE® World will be held February 6-9, 2022 with a unique hybrid agenda that will enable you to participate in all of your favorite SOLIDWORKS® moments typical of the annual event, either in-person in Atlanta, GA, or virtually from wherever you are in the world.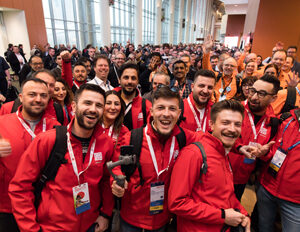 Click here for more information
At 3DEXPERIENCE World, SOLIDWORKS users, product designers, engineers, manufacturers and students explore the technologies and trends that transform their work and uncover new ways to innovate, whether it's creating new products, introducing new lines of business, or identifying new opportunities to expand market share. Imagine what we can do, together.
The event will provide discussion and training opportunities across a wide range of topics including:
SOLIDWORKS Desktop, Hybrid and Cloud applications
Design/Engineering
CAD Management
Data/Project Management
Simulation
Manufacturing
Architecture, Engineering and Construction (AEC)
Education & Research
Marketing & Sales
We take customer feedback seriously, and appreciate you taking the time to answer a few questions in this survey to help us design the best experience for you and your peers.
If you have speaker recommendations, please add your comments to the following spreadsheet.
If you are not yet a member, please consider joining the SOLIDWORKS CONNECT Community to get the most up-to-date event information.
Best regards,
The 3DEXPERIENCE World Event Team